We are Ron and Tonia Woolever, serving the body of Christ as Shammah Ministries, a resource for relationship. We love to help people relate to God and to one other in satisfying, intimate and healthy ways.
We do this through seminars, counseling and mentoring. For over 30 years we have worked with churches, pastors, leaders, couples and individuals to facilitate better relationships.
We are living witnesses to God's power to heal broken relationships and wounded souls. This has fueled our passion and calling to teach Christians about Covenant, which is the pattern God established for sharing life in committed righteous relationship. The abundant life Jesus promised only comes as we understand God's covenant heart and ways. We offer this and other topics through:
Church or community seminars that are practical and Biblical.
Speaking community conferences or events.
Bible Studies.
Books and audio teaching.
Counseling and mentoring, especially for pastors and their families or those in Christian ministry.
---
What We Teach
We primarily teach the Body of Christ about knowing Father, Son and Holy Spirit according to God's promises in the New Covenant of Christ. This covenant, originally revealed by God through the Old Testament prophet Jeremiah, is affirmed by the New Testament book of Hebrews.
Hebrews 8:10-12 tells us that salvation through Jesus Christ brings believers into a covenant relationship that is nothing less than an intimate, eternal union with the Lord. In this relationship we can all know and be taught by God, and be forgiven of our sins.
Covenant concepts imprint upon your heart the ways of God for faithful righteous relationship to Himself and others. Through these concepts we learn not just what is right, but what leads to abundant life and faithful love. We present these concepts through teaching on: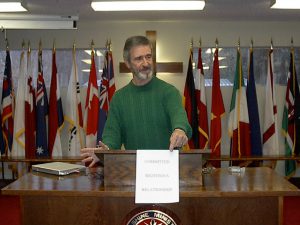 If you want to read more about the books we offer in connection with these presentations, visit the store on Tonia's author website at www.toniawoolever.com.
---
Ministry for Men – Leadership Training
Ron meets with individual men for mentoring. If you are in need of a mentor, or want to be a mentor to others, email Ron for more information on how to get started, whether local or long-distance via internet video conference.
Ron trains ministry leaders in ministerial ethics, administration and developing spiritual gifts.
---
Ministry for Women
Tonia is available to speak at your conference or retreat. Her seminar, What Kind Of Woman Will I Be? is excellent for women's events. Tonia has produced and conducted dozens of women's retreats and can also help you plan an event tailored for your specific group. Email her for more information or to schedule an event.
Tonia is the author of several books, which you can learn more about on her author website at www.toniawoolever.com. For instance, her book The Woman God Designed is a powerful and life-changing study for personal or group use. It guides a woman through the process of building a relationship with the Holy Spirit which transforms and nourishes her heart and marriage. A Group Leader's Guide is also available on her author website.
---
WHAT DOES "SHAMMAH" MEAN?
We are often asked about the name of our ministry. "Shammah" is one of the Jehovah names of God in Hebrew, found in Ezekiel 48:35. It means "The Lord is Present."