It's 6 a.m., and I have settled into a chair near the wide open back door where I can feel the coastal breezes waft in, and hear the first bird songs of the morning. As usual, I have my creamy tea in hand. After greeting the Lord with "Good morning," I ask, "What do you want us to do today, Lord?" The answer comes,
"Rest in my love."
Tears of relief and joy well up. Relief, because I realize I am a little on the weary side this morning. I don't know how much I need to rest with Him until I hear the words. Joy, because this is the God who saved me and with whom I share life.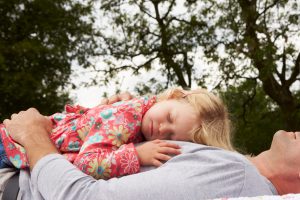 I lean back, and the words of Moses bubble up to the surface of my mind: "The one the Lord loves rests between His shoulders." This is part of the blessing/destiny Moses spoke over the tribe of Benjamin — the youngest of Israel's sons, the baby of the family, who forever in my mind and theology represents the child of God. The greater blessing says, "The beloved of the Lord rests secure in Him, for He shields him all day long. And the one the Lord loves rests between His shoulders." (Deuteronomy 33:12)
I know these words by heart, having claimed them as my own heritage, in faith. And in response to this faith — that the Lord loves it when we lean against Him in childlike faith and presumption of His tender love for us — the Lord has invited me to rest anew in His love. This isn't the first time I've heard this invitation.
How did I come to faith in this way of being with the Lord? These words, among many others in Scripture, which the Holy Spirit has woven together in my heart over years of seeking to know this God. It is like a garment I wear now, made seamless by Jesus' invitation, "Come to me, all who are heavy laden, and I will give you rest…" together with His admonition, "Anyone who will not receive the kingdom like a little child will never enter it."
The kingdom of God is many marvelous things, and I'm sure I've only discovered a fraction of them. But I am quite sure that chief among them is resting between God's shoulders, enjoying His love, in the un-self-conscious faith of a child who is convinced Daddy loves her.
---
The topic of being childlike with God, and being established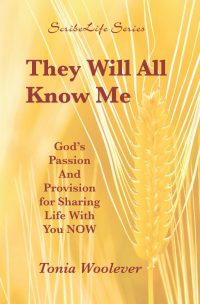 in His love, is a major theme of Tonia's book, "They Will All Know Me,"
available on Amazon.com and in the Shammah Book Store.