I love new beginnings, and the change of seasons and times. The Lord uses these things to refresh me and add the extra oomph sometimes needed to break out of old patterns of being. In line with that thought, I am excited to announce the publication of our newest book, Rooted & Established In Love, which invites you to examine anew the roots of your relationship to the Lord. Here's what the back of the book says: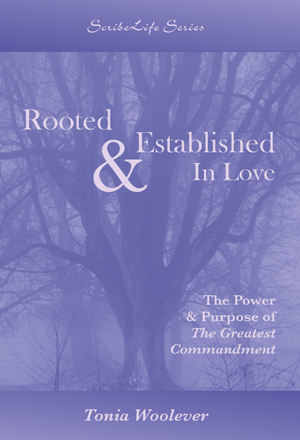 "Do you experience God's love and enjoy Him? Do you struggle with "the greatest commandment" to love God with all your might? This book addresses both issues, teaching why and how a believer must be established in a life with Christ based upon God's way of loving. This timely book explains:
Why you may be dry, frustrusted or weary in your Christian experience due to flawed roots of relationship such as legalism, fear, neediness or spiritual ambition.
Why you need to be firmly rooted in God's love for you, then grow on to be established in loving God wholeheartedly. Between these "bookends of love" a Christian is meant to know and share life with God in the land of the living.
You can only experience God's love, and be enabled to love God faithfully in return, with the help of the Holy Spirit, the Father's amazing gift to His children.
Establishing believers in intimate, satisfying life with God is the primary work of the Holy Spirit and the means by which every promise of abundant life in Christ will be realized."
This is the first in our ScribeLife Series, smaller books we will be publishing to help you know God in all the ways His priceless Covenant makes possible. At 130 pages, it is a quick but powerful read. This title is available on our website in paperback and e-book formats (for all e-readers) and, of course, wherever you find us.
God bless you to never give up on seeking the love life to which God has invited you!
Tonia