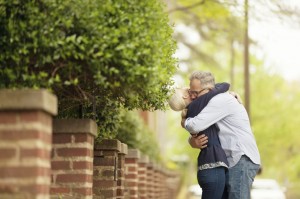 For a season in my life with God, he kept before me this question: "What's it like to be loved by you?"
That question generated a whole new outlook on me and people, and God too. What is it like to be connected to me, to be in my life, to live with ME?
Because we all put a "self" out there for public consumption — but what of our more intimate self? What IS it like to be married to me? To be my daughter, or mother or father…. or friend? And the only honest way to get that question answered — is to ask others. In that season, I also asked the Spirit to open my eyes and reveal the answer to that question, and He did.
That exercise was humbling and life-changing. And while I won't pretend that I came out of that season perfect by any means, it changed my perspective forever, and that question is never off the table. It's not on my plate, but it is over there where the salt & pepper sit, always there. Because among all the things I learned in that season, chief among them is that the question and its answer lie at the top of God's list of what matters most in this life, and the next.
Eventually, the Lord asked this teacher to teach what she learned, and for several seasons of our ministry travels, I shared the message, "What's It Like To Be Loved By You?" I may write more of these things in the coming days, but for now,
I leave it with you to ponder.