I want to share a sample of the rich food I receive each morning from reading five Psalms and one Proverb. For instance, on the 24th of the month, I read Psalm 116 through Psalm 120, and Proverbs 24. On that day, I am reminded of the following things about God and myself:
Psalm 116:
God hears my voice and my prayers. He has "inclined his ear" to listen to me.
The Lord is gracious, righteous, and compassionate, preserving the simple — like me — from the troubles I tend to get myself into.
The Lord will restore my soul back to a restful state after my mistakes or the actions of others have hurt me or caused me to stumble.
The right response to God's faithful care is to keep crying out to him in my need, to express my thankfulness, and to keep my promises to him. My community should see how I rely upon him, and I should praise Him publicly.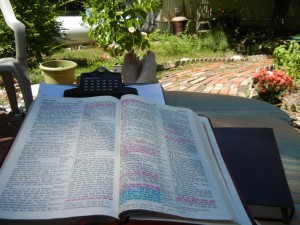 Psalm 117: (the shortest psalm in the Bible, at 2 verses!)
We should praise The Lord — along with every nation — because His lovingkindness is great, and His truth will endure forever.
Psalm 118:
I should give thanks to the Lord for his goodness, because his lovingkindness has no end…. it is EVERLASTING.
When I am in distress and call out to the Lord, he will answer me and rescue me, because he is "for me." Therefore, I need not live in fear. The name of the Lord will protect me from those who would destroy me.
The Lord is my strength, and the song that I sing! Joyful sounds come from the place where I live because of his faithful care and saving actions.
The Lord will discipline me, even strongly, if I need it. (Other Bible verses tell me that the Lord only disciples those he loves and considers true children).
Giving thanks to God opens the gateway to his presence.
The Lord made this day, and it is right for me to rejoice and be glad in it.
The Lord has given us light (that saves us from all darkness).
There is a sacrificial animal to be placed on the altar in my place. (I deserve to die for my sins, but I won't have to.)
Psalm 119 (the longest psalm in the Bible, at 176 verses!)
Those who live according to God's ways and who seek God with all their heart, are blessed.
I need to cry out for God to help me become established in his ways. It is good to pray, "Open my eyes!" and "Teach me!" and "Give me understanding!" and "Teach me discernment and knowledge!"
We keep ourselves pure by living according to God's words. His words are perfect counselors to us.
We avoid sinning against God by treasuring his words…  meditating on them and storing them in the heart.
Real freedom comes from walking in God's ways.
The earth is full of the Lord's lovingkindness! He is good, and does good things.
Affliction can be a good teacher.
If God allows affliction to be in my life, it is an act of faithfulness on his part.
When God judges something, His decision is the right thing.
Sometimes we feel like saying to God, "Why do I have to wait on you so long for comfort, and for your justice to be done to those who hurt me, used me, lied about me?"
God teaches us, and His words "are sweeter than honey." They make us wise.
His words light the way for us, so we don't need to walk in darkness or ignorance.
When we value God's commands enough to live by them, we naturally come to hate evil and wrong ways of living.
God always turns his face to look upon those who love His name, and He has mercy on them.
It is good to pray for the Lord to direct my footsteps, and that no sin would rule over me.
If I put God's promises to the test, it is likely I will end up loving those promises.
The Lord is near, and His compassion is great.
Great peace have those who love God's laws; they never stumble in life.
All of our ways are known to The Lord.
Sometimes a good prayer is, "I have strayed like a lost sheep. Please come get me."
Psalm 120
When I call out to God in distress, he answers me!
Psalms reveals the heart of God, while Proverbs provides wisdom for daily living. Take a look:
Proverbs 24
Do not envy wicked people. Do not fret because of them; their hope and light will be snuffed out.
A house (i.e., a LIFE) is built through wisdom, understanding and knowledge, which becomes full of beauty and value.
Possessing knowledge and wisdom makes a man strong and powerful.
You can claim innocence before men about a matter, but God knows the heart.
Wisdom is sweet to the soul, and leads to hopeful future that won't fail.
Even if a righteous man falls or gets knocked down seven times, he always gets back up. The wicked, however, will be overcome by trouble.
Do not be happy when your enemy falls, or the Lord will disapprove and turn his anger away from him.
Fear the Lord and the king, and don't join in with rebellious people — because the Lord and the king will bring sudden destruction to bad people.
Judge fairly, without partiality. If you declare a guilty person innocent you will be hated, but if you convict the guilty you will delight others, and be blessed.
Do not bring false accusations against your neighbor, or deceive anyone with your lips.
Do not ever say, "I'll do to him as he has done to me, I'll pay him back!"
The fields of lazy people are full of weeds and decay, and such a person will live a life of poverty.
What a rich feast of truth to carry into the day!
Ron taught me this practice when I first came to love God in 1979, and it has never grown old or failed to strengthen and bless my spirit. The 24th day of the month has the largest number of verses because of Psalm 119, but most days it takes 15 minutes or less to read the daily Psalms and Proverbs. They make a great devotional! Every day is different in emphasis, but altogether within the course of a month, I am reinforced in vital truths about God, myself, the world I live in, how to handle relationships, how to pray, how to talk to God, and many other things. I thank God for His Word, and invite you to try this for the coming month!