Walking In God's Abundant Life
If Covenant is Christianity 101, then Spirit Life is Christianity 102! Spirit Life is a detailed, practical course in how to live this new life in what the Apostle Paul called, "the covenant of the Spirit":
He has made us competent as ministers of a new covenant — not of the letter but of the Spirit; for the letter kills, but the Spirit gives life. 2 Corinthians 3:6 (NIV)
In the New Covenant, we no longer following the law, we are following a Person, whose job is to lead us into the abundant life Jesus promised. This life can only be experienced as one lives by faith in the presence of the Holy Spirit and learns to respond to Him. While on the earth,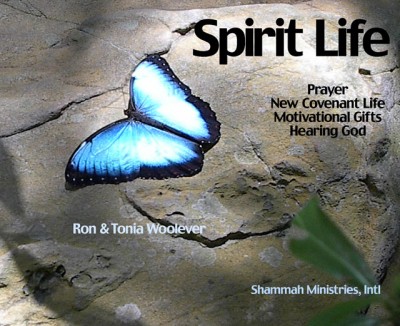 Jesus lived his life in utter dependence upon the Holy Spirit, setting the example for all believers. We become true disciples of Christ only through learning to do what the Apostle Paul called "walking in step with the Spirit." So how we we do this?
First we have a session on Prayer, in which we learn all that prayer is meant to be as a means of communicating with God. This is a great primer for the new Christian and a wonderful refresher for the seasoned believer.
Next, in a session called New Covenant Life, we learn everything the Bible teaches us about the role of the Holy Spirit, that precious gift the Father gives to all who receive the salvation of Jesus Christ. What is His job? How are we to relate to Him?
Third, we have a very enlightening session on the Motivational Gifts that describes the various gifts the Holy Spirit deposits in the covenant children of God. This is not your typical gifts teaching, and hopefully you will hereafter recognize the gift (or gifts) of God in YOU.
Finally, we end with a session called Hearing God, in which we examine the overwhelming Biblical evidence that God communicates with his people; a fact which is crucial to the fulfillment of the Lord's new covenant promise that "They will all know me, from the least of them to the greatest." The student will come away with practical understanding of how this works, how to develop the hearing ears which came with that new spirit in you.
Spirit Life is a one-day seminar that provides great tools for growth in discipleship. Contact us to schedule a live seminar in your church or community, or you can order this teaching in the Shammah Store.
---
The Seminar on 4 CD Set:
Prayer by Ron Woolever
New Covenant Life by Tonia Woolever
Motivational Gifts by Ron Woolever
Hearing God by Ron and Tonia Woolever