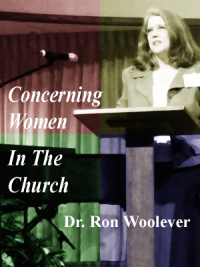 Concerning Women In The Church – EBOOK
$2.99
Click on link below to read full description.
Dr. Ron Woolever presents evidence from the Scriptures, plus church, biblical and cultural history, to clarify the issue of a woman's place in the Church established by Jesus Christ. He answers questions such as, can a woman teach and fill leadership roles in today's church?
Currently only available as a Kindle ebook. You can purchase this title to read on your Kindle device at the Amazon Kindle Store.