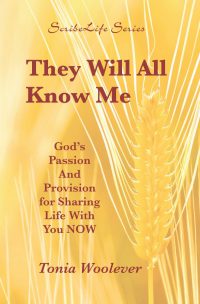 They Will All Know Me
$17.00
Subtitle: God's Passion and Provision for Sharing Life With You NOW
Author: Tonia Woolever
292 Pages, Paperback.
Click link below to read book description.
Free Shipping via Medial Mail. Allow 3-5 days for delivery.
Also available as a Kindle eBook on Amazon.com.
Quantity discounts available for 10 or more books. Email Shammah Ministries at sales@shammah.org.
Enter your personal information as you want it to appear on the product.