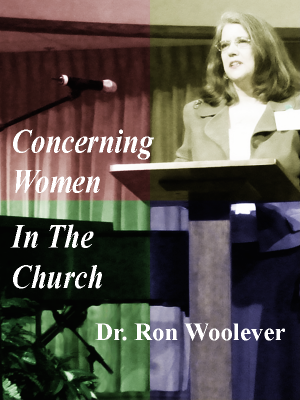 Dr. Ron Woolever presents evidence from the Scriptures, plus church, biblical and cultural history, to clarify the issue of a woman's place in the Church established by Jesus Christ. He answers questions such as, can a woman teach and fill leadership roles in today's church?
Ebook, 82 pages.  $2.99
You can purchase this title to read on your Kindle device, or on your computer or tablet using the Kindle app, at the Amazon Kindle Store.
---
The Table of Contents
Concerning Women In The Church
Women's Role In The Church
The Invisible Interpreter
What Would Happen If?
So What's The Big Picture?
What Kind of Silence Is This?
The Other Limiting Passage
In Summary
Just For The Women
What About Wives Submitting To Their Husbands?
Women In Professional Ministry
What About Head Coverings?