Subtitle: God's Passion and Provision for Sharing Life With You NOW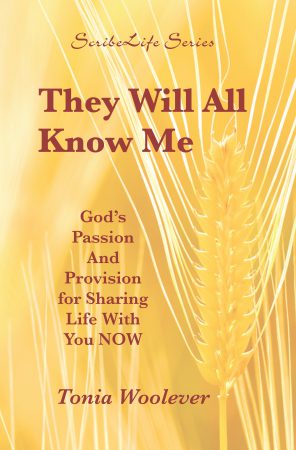 In They Will All Know Me, Tonia weaves together Scripture, God's covenant history with man and stories of her private life with God to make a compelling case for knowing God in intimate friendship.
Tonia shows salvation in its Biblical context as the New Covenant of Jesus Christ, whose primary promise from God is "They will all know me, from the least of them to the greatest." She explains salvation is not a ticket to heaven but a covenant of unfailing love that brings a believer into the family fellowship of Father, Son and Spirit. The reader is taught to shift from "living by Christian rules" to living as a response to God's Presence.
Various covenant values are revealed in order to illuminate God's heart for relationship with His people. Tonia writes from a deeply held belief that the human heart was created to be satisfied in knowing God, and validates this through stories and Scripture in a section on Entering God's Rest. After establishing God's passion is to nourish His born-again children through personal relationship, Ms. Woolever explains God's provision to enable this relationship is the gift of His Spirit, offered to all New Covenant believers.
This book targets the Christian who is weary of trying to manufacture God's life and promises by their own effort. It offers a refreshing portrait of life shared with the Spirit, how He establishes and sustains a believer in a life permeated with wisdom, joy, creativity, peace, and strength, through His roles as counselor, helper and divine Friend. Tonia's personal stories reveal the joyful partnership possible between believer and the Lord in daily life. This partnership and fellowship with the Trinity develops the character of Christ in a believer and establishes them as fruitful citizens in God's kingdom. Written in an easy to read style, They Will All Know Me is a valuable discipleship tool for both new and seasoned Christians.
Author: Tonia Woolever
292 Pages, Paperback. $17.00
Available in the Shammah Store on this website, any major bookstore, or our Shammah Ministries Store on Amazon.com.
Available as a Kindle eBook on Amazon.com.
---
Preview the Table of Contents:
The Full Message Of This New Life
Making The Case For Knowing God Now
Who Am I To Personally Know God?
Your Salvation Is A Covenant
Ancient Covenant History and Ways
The Biblical Thread of God's Covenants
The New Covenant Fulfilled In Christ
Our Covenant Ceremony and Gift
Orientation: Becoming God's Friend
What God Has Provided To Know Him
Knowing God Through His Word
Knowing God The Holy Spirit
Knowing God Together With The Body
Life With My Spirit Friend
A Life God Calls "Rest"
Removing Barriers To Entering God's Rest
The Rest Of A Satisfied Heart
All Things Are Fulfilled In Knowing God
The Goal Of Covenant: A Kingdom