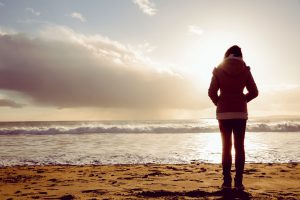 As I prayed this morning for someone I love, the Spirit reminded me of a phrase in Paul's prayer in Ephesians 1:18: "the hope to which you are called."
I understood the Spirit was pointing to the specific plans He has for this person (and for each of His children) — plans I prayed would be revealed to my beloved, so they could know what God wants to do with and for them, and therefore, what to let their heart hope for! Discouragement had come knocking, and I went to prayer determined to help them overcome it. Nothing overcomes discouragement so completely as a settled hope in the plans our Faithful Father has for us. My beloved needs to know; we all need to know.
Think of these words again: the HOPE to which we are CALLED.
We need to know what the Lord wants each of us to believe and have hope in concerning our life as it rests in His hands. I do not believe we are asked to hope in just some vague idea of goodness from God towards us. God has unique plans and a calling for each of His children. Perceiving, knowing, and understanding what the Lord wants us to hope in becomes a great anchor for our faith. As the Lord has said,
"For I know the plans I have for you," declares the Lord, "plans to prosper you and not to harm you, plans to give you hope and a future. (Jeremiah 29:11 NIV)
We need to know what the Lord is calling us to hope in when doubts come. We need a settled faith in what God is planning for us when life becomes disappointing. We need confidence in the personal words God has whispered to our spirit, when the enemy comes nagging with his words of discouragement and accusation.
Towards this end, we need to ask, "Lord, what would you have me put my hope in?" Insofar as He is willing, we can know and perceive God's plans for us, and we should. I believe with all my heart that God is not trying to hide these things from us; that he wants us to seek, to know, and understand, so we may believe, agree and rest in them. In fact, Scriptures I have come across over the years have convinced me that God is really pleased when we seek to know and engage with him like this, because it stirs faith in us, and God loves few things so much as seeing that His child BELIEVES Him. (Think of how much faith excited Jesus when he saw it in people.)
I leave you to soak in the full prayer of the Apostle Paul:
"I pray that the eyes of your heart may be enlightened in order that you may know the hope to which he has called you, the riches of his glorious inheritance in his holy people, and his incomparably great power for us who believe." (Ephesians 18-19a, NIV)