One day, the Lord revealed to the Prophet Isaiah all the things that would cause Him to delight in His "chosen one." We know now that he was describing his Son Jesus. Here is what the Father said of him who would bring delight:
My child brings justice
My child is a servant
My child is not loud or quarrelsome
My child is gentle and compassionate
My child is faithful
My child does not falter or get discouraged
My child is a light to men
My child heals blindness
My child sets captives free

                       Isaiah 42:1-7 (paraphrased)
"My chosen one in whom my soul delights."  
My chosen one.
Fast forward, past the days of Christ, to the days when Paul the Apostle wrote to the Ephesian Christians,
"Blessed be the God and Father of our Lord Jesus Christ, who has blessed us with every spiritual blessing in the heavenly places in Christ, just as He chose us in Him before the foundation of the world, that we should be holy and blameless before Him. In love He predestined us to adoption as sons through Jesus Christ to Himself, according to the kind intention of His will, to the praise of the glory of His grace, which He freely bestowed on us in the Beloved. "

Ephesians 1:3-5, NASB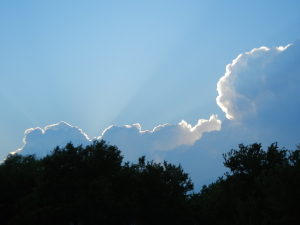 Here's the way I see it: God's original chosen one was His Son; AND he "chose us" in His Son before he even established the world! In other words, we become the Chosen when we join ourselves to Christ, the Chosen. Jesus confirmed this when He said,  "In that day you will know that I am in my Father, and you in me, and I in you." (John 14:20, NASB).
We are the sons and daughters of God through Christ, and together with Him, we are the chosen. Therefore, the list given to Isaiah is now OUR list to live by. Let us consider the things on this list that delight our Father.
Do any of those give you pause? Like say, for instance, healing the blind and setting the captives free? Can that really be for us? Some would ask, isn't some of this truly just spoken of Jesus Christ alone?
I do not believe so, and here is why: Jesus said to his disciples, astoundingly, "You will do greater things than what I have done while with you," But for this, we should not dare to appropriate these words for ourselves. But He did say it! And we should own them!
These words began as a prophecy, became a promise, and for those who would live a life that delights the Father, it is a mandate. Through Christ, we are the recipients of all.
Everything that "religion" requires is most beautifully accomplished through the goal of seeking to delight the Father. Like Jesus, we can do nothing on our own; and also like Jesus, we can do all things through the indwelling Spirit.
Isaiah has given us a cheat sheet to remind us of this good and wonderful way of life that is Christianity, for the sons and daughters of God. I encourage you to print it out, post it on your refrigerator or bathroom mirror, or on your computer monitor. Remember every day who you are now that God is your Father, and how you may bring delight to His heart.
(Excerpted from the book Tonia is writing, "They Will All Know Me")