In preparing for my most recent Women's Retreat, the Holy Spirit taught me something new about surrender. Our normal concept of surrender to God is to give everything up, or lay everything down, abandoning ourselves, yielding entirely to Him — and this is certainly true. "But you don't finish the sentence," the Holy Spirit said to me…don't say, 'I surrender,' say 'I surrender to your love!'"
Yet another occasion to love being taught by the Spirit of Christ….He shows me things and connects things I would never have come up with intellectually or theologically.
Surrender is a relational transaction, always something or someone. Dictionary.com says of the verb surrender that it is used with an object, and means:
to yield (something) to the possession or power of another.
to give (oneself) up to some influence, course, emotion, etc.: He surrendered himself to a life of hardship.
to yield or resign (an office, privilege, etc.) in favor of another.
For a Christian, the true object of our surrender is the Person who is the only truly good being, the unfailing lover, the one who died to give us real life.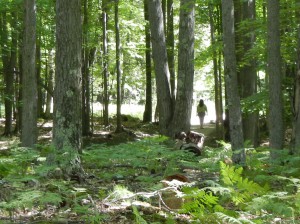 At that women's retreat in the Michigan woods I asked each woman to fill in her blank at the end of the sentance, "I surrender to ________."  A sampling of the answers:
I surrender to His goodness
I surrender to His rest
I surrender to His faithfulness
I surrender to His peace
I surrender to His grace
I invite you to fill in your own blank, and surrender anew to the Lord who asks you to yield all of your life and being to Him, and gives so much more in exchange!
Bless you in knowing your God,
Tonia